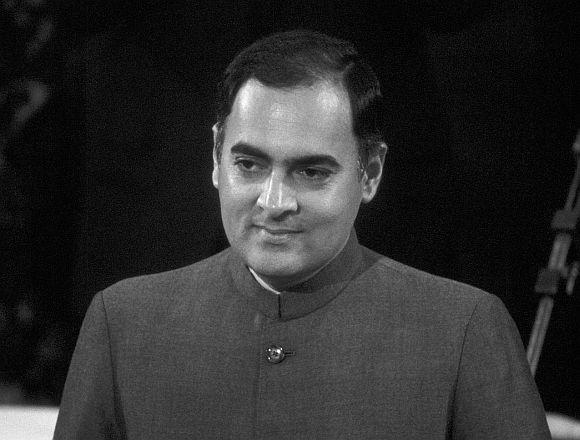 On Wednesday, Union External Affairs Minister Sushma Swaraj referred to Madhya Chief Minister Arjun Singh's autobiography as part of her scathing response to the Opposition on the 'Lalitgate' issue.
She alleged that former prime minister Rajiv Gandhi allowed safe passage to Union Carbide chief Warren Anderson to secure the release of his friend's son Adil Shahryar who was serving 35 years in a US jail.
She quoted Arjun Singh's book, which claimed that Rajiv Gandhi had ordered him to make arrangements for Anderson's safe passage to the US.
Who is Adil Shahryar? Why was he imprisoned and what was his relationship to former prime minister Rajiv Gandhi?
Rediff.com gives you a lowdown on the elusive Adil Shahryar.
A
dil Shahryar is the son of India's former ambassador to Spain and long time chairman of the Trade Fair Authority of India Muhammad Yunus.
As the son of a close Gandhi family aide, Shahryar was a boyhood friend of then prime minister Rajiv Gandhi.
Shahryar was arrested in August 1981 by Miami state authorities on charge of attempting to set fire to his room at the Sheraton Beach Hotel. He was soon remanded to the custody of US authorities.
In all, Shahryar was tried on the following count: (1) attempting to firebomb a ship; (2) false statements on various certificates in connection with the shipment; (3) mail fraud; (4) making of a firearm; and (5) use of a firearm in the commission of a felony.
It was established in the court that Shahryar's company, the Caribbean International Investment Corporation, had a contract with the England-based Shapton Products Ltd to supply them with 25,000 video cassettes. It was also established during the trial that Shahryar had substituted the aforementioned shipment with scrap paper.
Shahryar intended to set the shipment on fire in order to claim $243,750 (nearly Rs 22 lakh at the then exchange rates) from the American Express bank. Shahryar, however, claimed innocence of any scheme to defraud either the bank or Shapton.
The Heston connection
Hollywood actor Charlton Heston wrote to then-attorney general William French Smith in 1982 asking him to intervene in Shahryar's case.
The case was assigned to Smith's special assistant, John G Roberts Jr.
Roberts reviewed the case and in a memo clarified that Heston's version of events was incomplete.
He drafted a letter courteously dismissing Heston.
Read the entire Heston letter
HERE.
Quid pro quo or the Shahryar Redemption
In the aftermath of the Bhopal gas tragedy, the Congress had allowed the then Union Carbide chief Warren Anderson to escape to the US.
In 1985, President Reagan commuted the sentences of 13 people who had been in prison for violations of federal laws. Reagan signed the clemency papers June 11, the day Gandhi arrived in Washington for a state visit.
According to Sushma Swaraj, quoting from the book by former Congress chief minister Arjun Singh, the Rajiv Gandhi government had allowed Anderson to flee as a quid pro quo arrangement with US on giving a presidential pardon to Shahryar.
At the time of Shahryar's release, Rajiv Gandhi told India Abroad (owned by
Rediff.com
) that he had not asked that his friend's sentence be commuted, but added, "We do believe that he has been wrongly imprisoned."
Image: Former prime minister Rajiv Gandhi.
AGENCIES